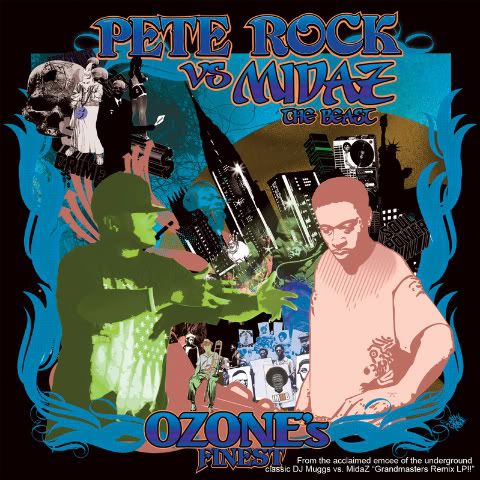 I don't care if you don't know who MidaZ is, download this RIGHT NOW.

Pete Rock VS. MidaZ the BEAST -

Ozone's Finest

- FREE DOWNLOAD
Press Release:
With each subsequent release, casual listeners and hip hop heads alike are learning more and more just why Orlando's most ferocious emcee has earned himself the title of MidaZ the BEAST. Continuing in the vein of his prior release,'Grandmasters Remix Lp', which paired the UJ Empire word warrior with an album's worth f DJ Muggs production, MidaZ's newest project finds him teamed up with another legendary hip hop producer.
'Ozone's Finest' features MidaZ rocking over beats by none other than hip hop's #1 Soul Brother, Pete Rock. "This album is me showcasing multiple styles," says MidaZ. "I tried to show with this project that my mic game is tight…no matter what the drums do. I chose Pete Rock as my adversary because I believe he's one of the greatest ever. I wanted to test my pen against greatness."
Featuring guest appearances by Roc C of Stones Throw fame, Sabac Red (NonPhixion), Beretta 9 (Killarmy), TzariZM, IMAKEMADBEATS, and more, 'Ozone's Finest' showcases the continuing evolution of a rapper whose vivid wordplay and razor-like agility on the microphone has earned him the praise of Wu-Tang's Killarmy and Shyheim, Babygrande production duo Blue Sky Black Death, and anyone else who's been blessed to witness the kid spit – all over the trademark Pete Rock sound that most consider to be the pinnacle of hip hop production. While the claim as 'Ozone's Finest' currently sits under his belt, it's only a matter of time before MidaZ expands his title to greater arenas.