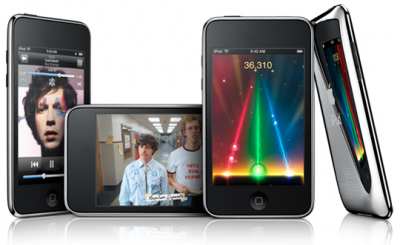 Apple released the
new iPod Touch
today at their media event. The new iPod Touch matches up with the rumors, now sporting a curved back but retaining the same storage capacities. Features include:
- 2.1 Firmware
- Built-in speaker, volume controls
- Genius playlist
- Nike+iPod support
- Battery: 36 hours for music, 6 hours for video.
- $229 for 8GB, $299 for 16GB, $399 for 32GB
Apple announced the
new iPod nanos
today at their media event. The nano matches up with the circulating rumors of a taller, colorful design.
- Thinnest iPod ever
- Enhanced user interface
- Accelerometer to detect tilt
- Shake iPod to shuffle
- Genius playlist built in
- Aluminum with curved glass
- Battery: 24 hours for music. 4 hours for video.
- $149 for 8GB. $199 for 16GB.
- 9 Colors: silver, purple, blue, green, yellow, orange, red, pink, black
The 8GB should be available today, while the 16GB should be available by next week.
Apple also quietly updated the iPod Classic and iPod Shuffle:
- The iPod classic would now only come in a 120GB model, replacing the 160GB and 80GB models that are currently available.
- The iPod shuffles have been revamped with new colors but the same price and storage.
As expected, Apple revealed
iTunes 8
today during their "Let's Rock" media event. iTunes 8 offers a number of new features including:
- Support for High Definition TV shows
- $1.99 for Standard Definition episodes
- $2.99 for High Definition episodes
- Genius playlists: automatically find similar songs in your collection
- Available today
Apple also announced that NBC has returned to iTunes, so popular shows such as
Heroes
and
The Office
will be available.
iTunes is available at
http://www.apple.com/itunes/
. Clicking on the download link will download iTunes 8 (though it's still labeled as iTunes 7.7).